Consider this scenario, you are hired for a role that requires typing messages all day long. You are provided with a special keyboard that has a "Send" button, but you do not have a monitor to see what you are typing. You have no idea what it looks like after you have completed typing your message.

Welcome to the world of business decisions. Most businesses operate without a monitor on a daily basis. We almost always underestimate the value of getting feedback on our business decisions.

Here are some familiar tunes we may think, say or hear daily as we indulge in decision-making without feedback.
"I am an Entrepreneur at heart"
"I am a quick start"
"I have great instincts"
"I follow my gut"
"We don't have time for these processes"
While leading with your heart is not a bad thing, Decisions will require both your Heart and the Head to be effective and enable business success.

During a recent conversation with one of our clients, he mentioned that they had an urgent need to hire a replacement for one of the roles. When asked how he would make a better hiring decision this time around, here is what he had to say; "I don't have time to think about it. I just posted on a job board and have over 100 resumes, I even have a shortlist and we just need to figure out who would be best fit".

Having been a student of Covey's 7th habit, "Sharpen your saw" is what comes to my mind.
So I start to ponder on a few questions; How do you know you will hire right this time?, What did not work right last time?, what will be the difference in the process?, Where does that fit into the overall goals?, What are you going to evaluate?, How do you identify if the hire is a good fit culturally, and Are you going to have different expectations from the new hire?

Enabling the team to make the right decisions was top of mind and we identified the two most important factors for making the right business decisions.

A process to help make the right decisions.
Research and gather all the relevant information required to setup the process of evaluation and decision to hire – "R"
Process / Framework to Analyze the relevant attributes to help make recommendation – "A"
A framework to Decide – "D"
Develop a plan and Act on it – "A"
Review the outcome and capture relevant feedback – "R"
A feedback mechanism to help improve the decision process continuously

Sure, all this is going to take time, but I don't need to tell you what it will cost a business if your decision results in a wrong hire. Even if the data we capture is simple, it is better than a subjective and biased decision making process. It will provide with you with a baseline and an opportunity to continuously improve.

Here is a view of our framework Decision RADAR ™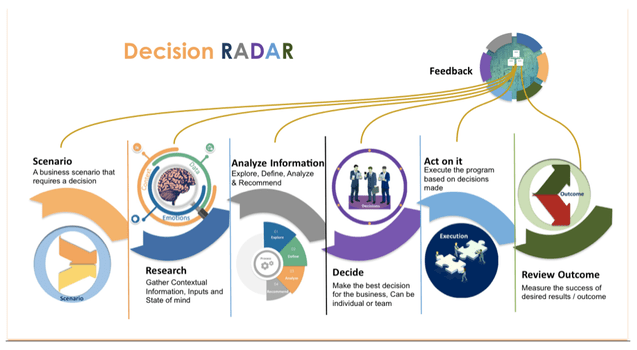 Having a framework will help with making the right decisions for your business. Remember, it is both Process and Feedback that matters.
Start small and slow. Develop the necessary thinking skills and culture to help make it a habit. Lead by example, and remember, not doing it right is akin to sending an email with the special keyboard.
Please feel free to reach out if we can be of help to identify how you are doing with your business decisions.